domingo, 23 de abril de 2017
Click on the titles and
MY LIFE STARTER
MY LIFE 1
stella :-)
domingo, 9 de abril de 2017
Let's read the TEXT: "Sleepy teens"
TEXT ANALYSIS
There are FACTS and OPINIONS in this article. Make a TABLE and include 2 or 3 items in each column.

CAUSE and CONSEQUENCE. Can you find more? The article mentions several causes and consequences. For example:

If the adolescent stays up late at night, he/she is tired during the day.

If you sleep late during the weekend,

If you get up and go to bed at the same time every day,

If you are a teenager,

If you are tired,
the body gets the rest ut needs.

you can alter/modify your body's clock.

you have many problems.

you need 6 to 7 hours sleep every day.
Pieces of advice. Find them and turn them into an INFOGRAPHIC with EASEL.LY
stella ;-)
domingo, 2 de abril de 2017
Our first project is called. I AND MY WORLD.
POEMS
POEM 1: You and I
POEM 2: By myself
When I'm by myself
And I close my eyes
I'm a twin I'm a dimple in a chin
I'm a room full of toys
I'm a squeaky noise
I'm a gospel song
I'm a gong
I'm a leaf turning red
I'm a loaf of brown bread
I'm a whatever I want to be
And anything I care to be
And when I open my eyes
What I care to be
Is me.
Eloise Greenfield
Eloise Greenfield
Eloise Greenfield was born in 1929 in Parmele, North Carolina. Her family moved to Washington, D.C. when she was an infant. As a child, she loved music (she played the piano), movies, and books. As a young adult, [...] Ms. Greenfield began writing.
[...] In 1972, she published her first book,
Bubbles.
She is now the author of more than 40 books for children — poetry, biography, picture books and older fiction. She says one of her missions as a writer is to contribute to the development of a large body of African American literature for children.
READ MORE
Bond of Union (Banda sin fin), 1956
Self portrait (autoretrato)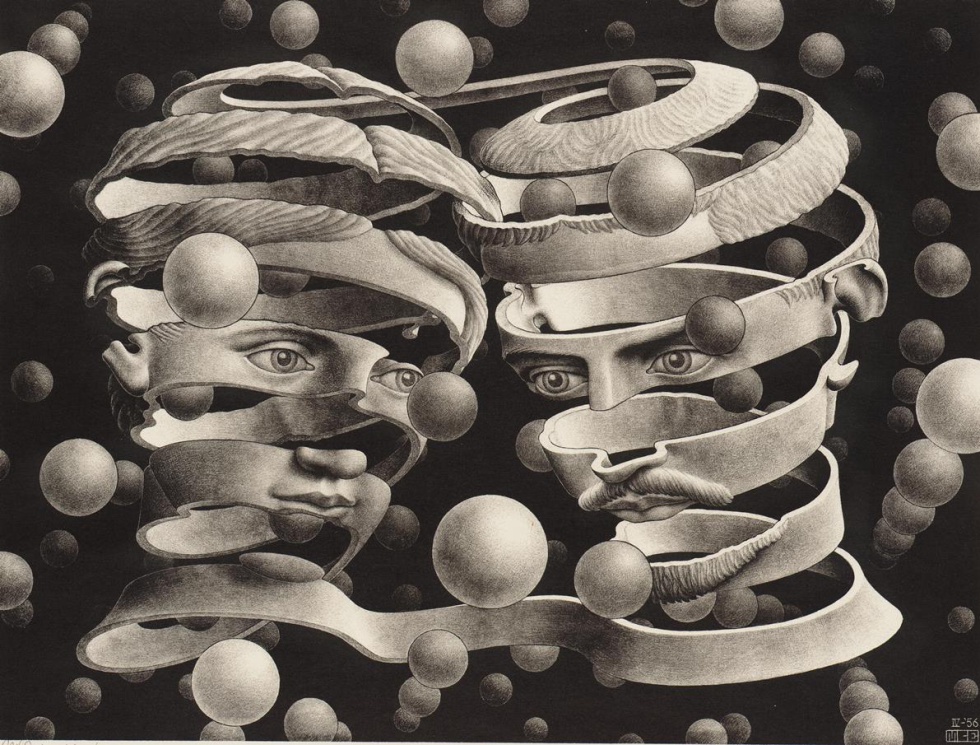 Maurits Cornelis Escher, 1898-1972